NNDDA Events
---

2023 NNDDA National Training Conference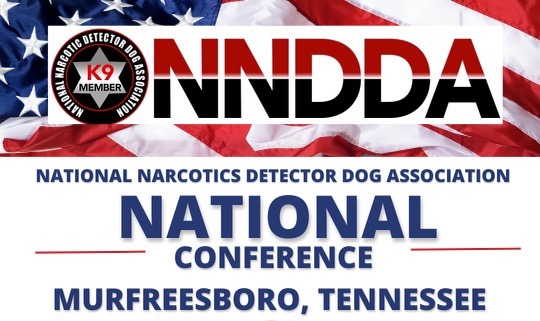 The

2023 NNDDA National Training Conference
will be held in 

Murfreesboro, TN
May 29th through June 2nd, 2023.

 

NNDDA National Training Conference Tentative Itinerary – Subject to Change

May 28th (Sunday)
Certifying Officials Meeting 0900-1100 hours
Registration 1300-1700 hours
K-9 Memorial 1800-2100 hours

May 29th (Monday)
Late Registration 0730-0830 hours
Opening Ceremonies & General Meeting 0900-1200 hours

Classroom: Guest Speaker for Monday: Bob Eden
Instructing on Record Management, KATS K-9 Program, and and managing extreme bite control issues.
• Click for Bob Eden's Bio
• Click to download lesson plan
1300-1600

David Dourson, Kinetic Proformance Dog Food
Instructing on Canine Nutrition
More Info: https://kineticdogfood.com
1600-1700

May 30st (Tuesday)
Training Sites & Certification 0900-1700 hours

May 31st (Wednesday)
Training Sites & Certification 0900-1700 hours

June 1st (Thursday)
K-9 Troubleshooting Problems Site 0900-1200 hours
Patrol Competition 0900-1600 hours

June 2nd (Friday)
Narcotic Competition TBA to Finish
Awards Banquet 1900-2200 hours

TRAINING SITES
Bob Eden managing extreme bite control issues demonstration, limited number of students, observers welcome.
Police Service Dog
Explosive/Narcotic Detection
Situational Training
Tractor and Trailers Stops
Bob Eden teaching the Out
School Rooms
Masking
Board member Javier Solis will be offering canine first aid.
David Dourson, Kinetic Performance Dog Food, will instruct on Canine Nutrition https://kineticdogfood.com/
Cadaver Certification is available upon request contact thenndda@yahoo.com
MORE TO COME
You will not want to miss this training seminar.
---
REGISTER
Pre-Registration is $300
Payment must be received by May 15, 2023.
After May15th the price is $350.
After completing the the registration form, mail it to the address on the form.
Payment Options:
1 – Include a check with the form.
2 – Pay online, and include your payment confirmation receipt when you mail the form.
---
Meritorious Achievement Award
Deadline to sign up for Meritorious Achievements was April 30th.
---
HOTEL INFORMATION
Host Hotel
Doubletree
Special Rate of 109.00
Discount Code: NDA
Click here to reserve your room